This is the story of how ridiculously slow and stupid a band can act in certain situations, especially when there are two bands involved, and where the outcome therefore is slim to nothing.
In 2004 we joind forces with the highly esteemed, but now unfortunately deceased, rock orchestra Autotune, to make a split 10″ vinyl. The recordings were done in August/September the same year in Autotank studio, later to be known as Come Again Studios, on analouge tape and a feisty, yet raw sound was secured. The recordings and mixing were taken care of by Håvard and the mastering by Renate Bakke. But one thing remained. The cover art. And that was when the trouble started.
Thomas Røst had done the first demo and Good Rock for Good People, so we decided to go for him one more time.
We gave him rather unlimited say in bringing in ideas for the cover. All we did was to give him the title, and since it was a split release, there shouldn't be side A and B. The sides should be labeled with different colours. Svein came up with the title «This is Rock. You are Disco», and strangely enough everyone agreed rather quickly.
So, Thomas worked for a few days, and we all gathered for a meeting at the infamous pub Cafe 33 in Oslo.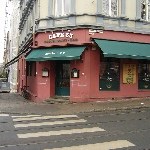 The meeting went fairly well. Some of us loved Thomas' suggestions right away, some were a bit indifferent, while some didn´t like it that much. So why not go for it and perhaps make minor alterations? For some democratic reasons why more or less had decided, or at least had the silent idea, that all of us should agree on the final product – no matter what. So when the bands were alone the discussions started on what kind of design we wanted the cover to have. A discussion we might have been better off with taking some time earlier. The moose was in fact a major issue.
Because the end of it was that we left the pub, and had some sporadic talks about what we wanted. The time went by, and suddenly it had taken so long time that Autotune was ready to release their own album, and found that the two releases came to close to each other. So it was clear that the vinyl was dead. All the songs that were supposed to be on the vinyl were re-recorded and ended up on different albums. A fun fact is that the song «Cruise Control» that VNRDS were supposed to put on the vinyl were renamed and the lyrics were rewritten for Hoggin´all the Action. The song ended up as «Sire, it´s the Bell Boy from Hull». And what did the cover art look like? There were suggested other colours as well, but these are the only copies known to have survived: